June 2018 Soul Graffiti News
Where to find the best culture, community, and music.
Here is a quick look at what we have for June 2018, including shows, releases, tours, Pedal Power, Teaching, and more!
Featured Artists:
Handmade Moments is one of the most intimate examples of bringing presence with harmony, laughter, and solid rhythm. This duo has been hitting the touring hard with their national and international tour plans for 2018. Check out their most recent video's below and go find their newest releases! 
Handmade Moments has been touring as they go up and down the coast with their new audio and video releases. Enjoy their duo sound with soaring harmonies and vocals over deep bass, rhythm with guitar and skills that hit the moon. We are currently listening to the full album as we write this and we can hardly control the enthusiasm, good vibes, and positive vibes this amazing and cute duo put out. Go check them out soon at one of their shows in the USA or Europe.
Justin Ancheta Band featured song for the new "sLEDgehammer" Rock The Bike promo video.  Here's one of the newest fun bike activities from Rock The Bike. This video features the song "Living It Up", by Justin Ancheta Band.
Honey Of The Heart new song "Joon" video audio to be released very soon! Stay tuned as news progresses with the little one. Maren Metke and Justin Ancheta had their baby on 6-12-18 at 4:50 a.m. Her name is Juniper Miel Sunalei Librada Metke Ancheta. If you'd like to support in their transition to parenting and music-making, please visit their links here:
Mealtrain Sign Up: https://www.mealtrain.com/trains/k77evr
Baby Registry: https://www.amazon.com/…/maren-metke-justin-a…/1COU1PN0QOS4R
Here is a visual into the new nest of Justin Ancheta and Maren Metke family in the Sierra Foothills as they get ready for their baby Joon Bug.
June 29th Justin Ancheta Band bringing out the new Soul Graffiti Light show to the Crazy Horse.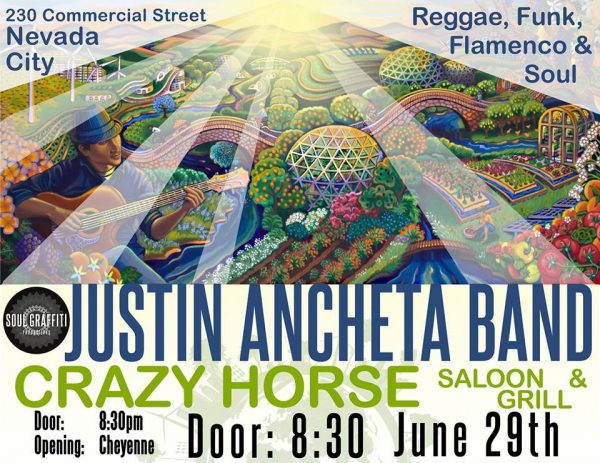 After 15 years in the Bay Area, Justin Ancheta has made his way up to the Sierra Foothills to raise a family and continue making music and event production with the vast musical family both in the Bay Area and the Sierra Foothills. This show is going to be extra special, featuring the local talent of Richard Jones on drums (celebrating his birthday) and Jacob Aginsky on keys, plus special guests!
Here's a link to the most recent JAB promo.
Upcoming Biketopia Collective tour! Check out their North Coast shows here.
The collective is ready to embark on another incredible adventure down the Washington and Oregon coast, hitting up venues by bicycle and performing Pedal Powered shows along the way. Biketopia Collective shares the good fortune of community power and positive creations. If you'd like to inquire about having them at your bike event, please email booking@soulgraffiti.info and we will field your event information to match the best offering of Pedal Powered activities and music creations.
Pedalfest coming July 28th, a Benefit for Bike East Bay at Jack London Square. Each year the Bike East Bay puts on a great event at Jack London Square to raise funds and awareness for bike advocacy in the East Bay. Through their efforts, new bike lanes are continuing to pop up all over the East Bay, increasing the safety of pedestrians and bikers.
The full line up is coming soon. For now, we have The Big Fit confirmed! More coming soon.
We would like to thank all the bands and performers who supported the Pedal Powered Stage this year. The list includes The Big Fit (photo left), Justin Ancheta Band, Cello Joe, Moldover, Batala SF, Magical Nathaniel, La Gente, Fito Reinoso y Su Ritmo y Armonia, Whee The People, Earles of Newtown, and Soul Graffiti Drumming core. We have a highlight video below for you to enjoy. Please share it on your personal page and spread the Pedal Power Love! soulgbooking@gmail.com
Rock The Bike and Soul Graffiti Productions partnered to win three first-place awards for presentation at the Maker Faire 2018. Thank you to all the volunteers, crew, and extra friends who supported the Pedal Powered activities this year. We found out that carrots DO take more energy then apples to juice; approximately double the wattage!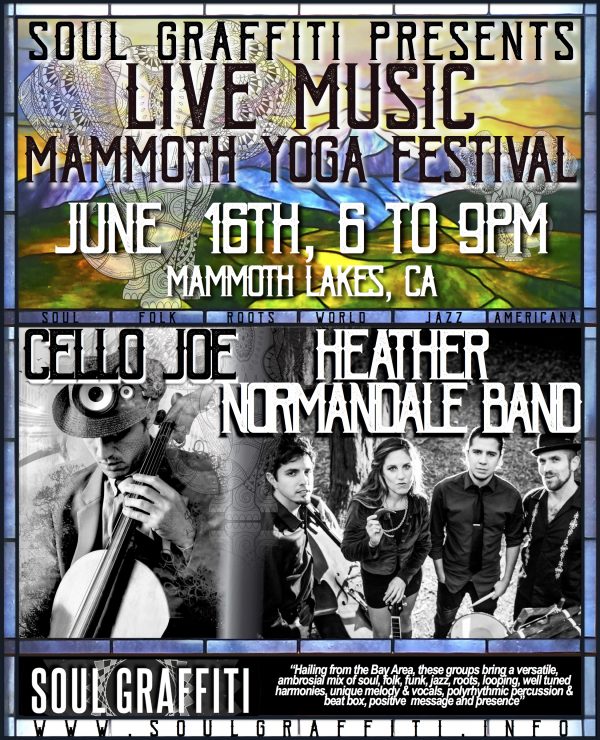 The Village At Mammoth invited Heather Normandale Band, Cello Joe and DJ SG to perform on 6/16/18 from 6-9:30 pm and we are super excited about this event, along with the line-up of awesome music, including Heather Normandale Band Cello Joe DJing and Opening.
Soul Graffiti is partnering with multiple events with Mammoth Resort. Two more shows are to follow on 8/18/18 with the Justin Ancheta Band, and 9/8/18 with DJ Soul Graffiti and a Spin Art Bike from Rock The Bike.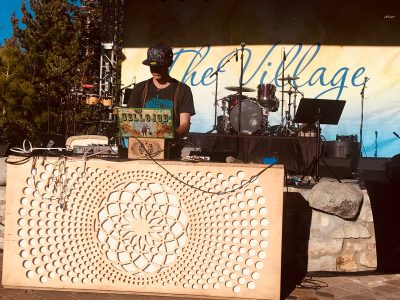 New Soul Graffiti Boss!
Welcome tiny human! Juniper Miel Sunalei Librada Metke Ancheta
Upcoming Events and Shows
June 7th – Revolution Cafe: Heather Normandale and Friends
June 16th – Soul Graffiti Stage – Mammoth Yoga Festival
June 29th – Justin Ancheta Band at the Crazy Horse, Nevada City, CA
June 30th – The Big Fit – Formerly Frobeck – Forestville Party
For more info, to https://thebig.fit/shows/
7/14 & 15  Squaw Valley Art Wine and Music Festival
Featuring Justin Ancheta, Sang Matiz, and many more bands!
Last but not least, please welcome Michael Wyner to the Soul Graffiti roster of teachers. He is an established guitarist in the Bay Area, performing with some of the best funk bands in the Bay. You can sign up for lessons with him by emailing soulgbooking@gmail.com.