Engineers: booking@soulgraffiti.info
Oz Fritz
Engineer extraordinaire, Oz Fritz has been working in the business for over 25 years. He has worked with Bill Laswell and many greats over the years, contributing his wizardry to the mixes. He is known for his work with artists such as Tom Waits and Pepecito Reyes.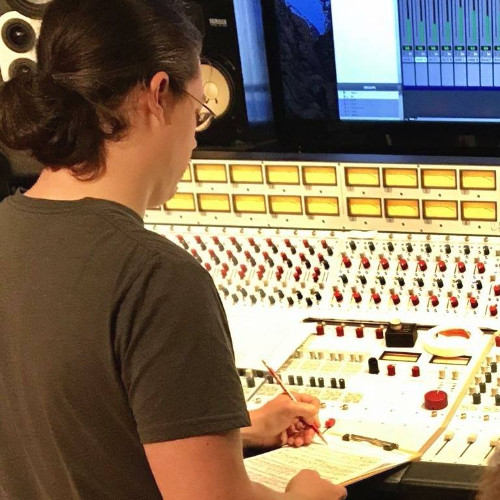 Sam Ward
Sam Ward is a masterful sound engineer with 14 years experience in symphonic hall recordings. He has worked on the East Coast at Affeto Records for 7+ years, and recently moved to California to pursue his expertise in sound design, recording, mastering, and live sound.
Nathan Bauld
Nate is an extraordinary Audio Engineer that has done multiple sessions at Soul Graffiti Studios over the years. His acute ear, kind personality, and ability to achieve what the client is working toward, make him a prized gem Master of sound at Soul Graffiti Studios.
Dominic Brown
Dominic has years of experience in studio and live sound production. He is trained on the same gear and software we use at the studio and is one of our mainstays of Soul Graffiti Studios. Both personable, articulate, a good listener, and extremely knowledgeable gives him flying reviews from us and clients when they work with him.
Rooms:
We have 4 main recording rooms totaling 1000 square feet — plenty of space for a big band.
Studio A (14.5' x 11') is our main mixing room but also can double as a vocal or instrument booth
Studio B (14.5' x 28′) is our main band room, large enough to easily fit a drum sectional and multiple instrumentalists and vocalists if needed
Studio C (8 x 12') is our best isolation room. We usually do overdubs in this room and a great space with visuals to the other rooms for vocalists and band leaders
Studio D (15'x 7') is another mixing and mastering room that can also double as an isolation booth or room for an amp or some extra separation for quality post-production work
Software:
Ableton Live is our preferred platform. We also have Pro Tools & Logic with engineers that know them well.
Mixing and mastering plug-ins galore!
Samples banks of all instruments, controlled through midi by touch, keys, or drum pad.
Hardware:
X32 Behringer; 48 inputs and 16 sends allows for any multi-tracking option to take place
X32 Rack + expansion boxes for recording live shows and for wiring the separate 4 iso rooms
Microphones:

2 Neumann U87's from 1963
2 Neumann KM84's from 1970
2 DPA 4006 omni
Aventone C12 copy
RCA 77DX from 1973
Blue Baby Bottle
Shure KSM27
MXL 993 Condensor
Sennheiser E 835
Sennheiser MD421
Shure beta 58
Shure 57's, 58's

Preamps:

Focusrite ISA One FF
MPA Gold

Speakers:

B&W 802 Diamond Series Loudspeakers and Hypex monoblock amplifiers
Instruments:
Use of additional instruments or special equipment can either be included in some sessions or rented additionally depending on the hours and time spent here at Soul Graffiti Studios.
DJ Gear: Traktor Kontrol S8, DDJ-SB2 Pioneer DJ (X2),
Guitar amps:

Mesa Boogie Recto-Verb
Vox Pathfinder 15R
Fender Blues
Crate GX15R

Guitars:

Fender electric guitar
Taylor 512
Tres

Bass amps
2 Yamaha 88 weighted-key pianos
Midi keyboards: Oxygen49, Akai max49
Moog, Moog Phatty simulator
Wind instruments available upon request
Violin, bass, and other instruments upon request
All drums available upon request