We have Honey of the Heart coming back from their two month tour through seven states in the North-Midwest of the country. There have been many shows along the way, and here is their final show of the tour in Berkeley. Get your tickets in advance, or arrive at the door.
Welcome home House Concert: CLICK HERE FOR TICKETS
Next up on the show list:
8/27/17 – Soul Graffiti Choir and Drumming groups at the SF Giants 5K Race 8-11 a.m. by the embarcadero to the Giants stadium.
9/2/17 – Honey of the Heart – Foothills House Concert TBA
9/3/17 – Squaw Valley Beer & Wine Festival featuring: Justin Ancheta, Heather Normandale, and Honey of the Heart 2-5 pm at Squaw Valley.
9/6/17 – Strings Monthly concert across from Soul Graffiti Studios is happening 8-10 pm!
9/7/17 – Revolution Cafe monthly series with Honey of the Heart
9/16/17 – Creative Commons Festival at 64th and San Pablo: PLACE annual placemaking party with pedal powered music. 12-6 pm
9/16/17 – Justin Ancheta private performance in the East Bay Hills.
For more shows, bookings, and in-studio sessions information, please visit or email us at booking@soulgraffiti.info. We would love to hear from you and get to know how we can support you. We have had a great time learning new alternative ways to bring music into nature and rural areas where there are no power lines. Off-grid power is our specialty with music offerings for your private or public event! Please see our reviews on Yelp, and/or please leave us a review sharing your experience of our work.
We've been on the road! Check out the map to see our travels of 4000+ miles with Nalu, the new Sprinter Van. Soul Graffiti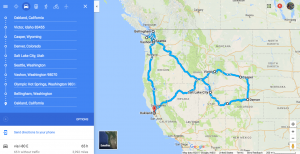 Mobile unit is official with the extended trailer and touring artists with the audio and video studio from the road! If you'd like to host us, or get involved, please email soulgbooking@gmail.com and we will plug the information in to the appropriate area of the business.
Thanks for reading and keeping in touch with us!
Soul Graffiti Team