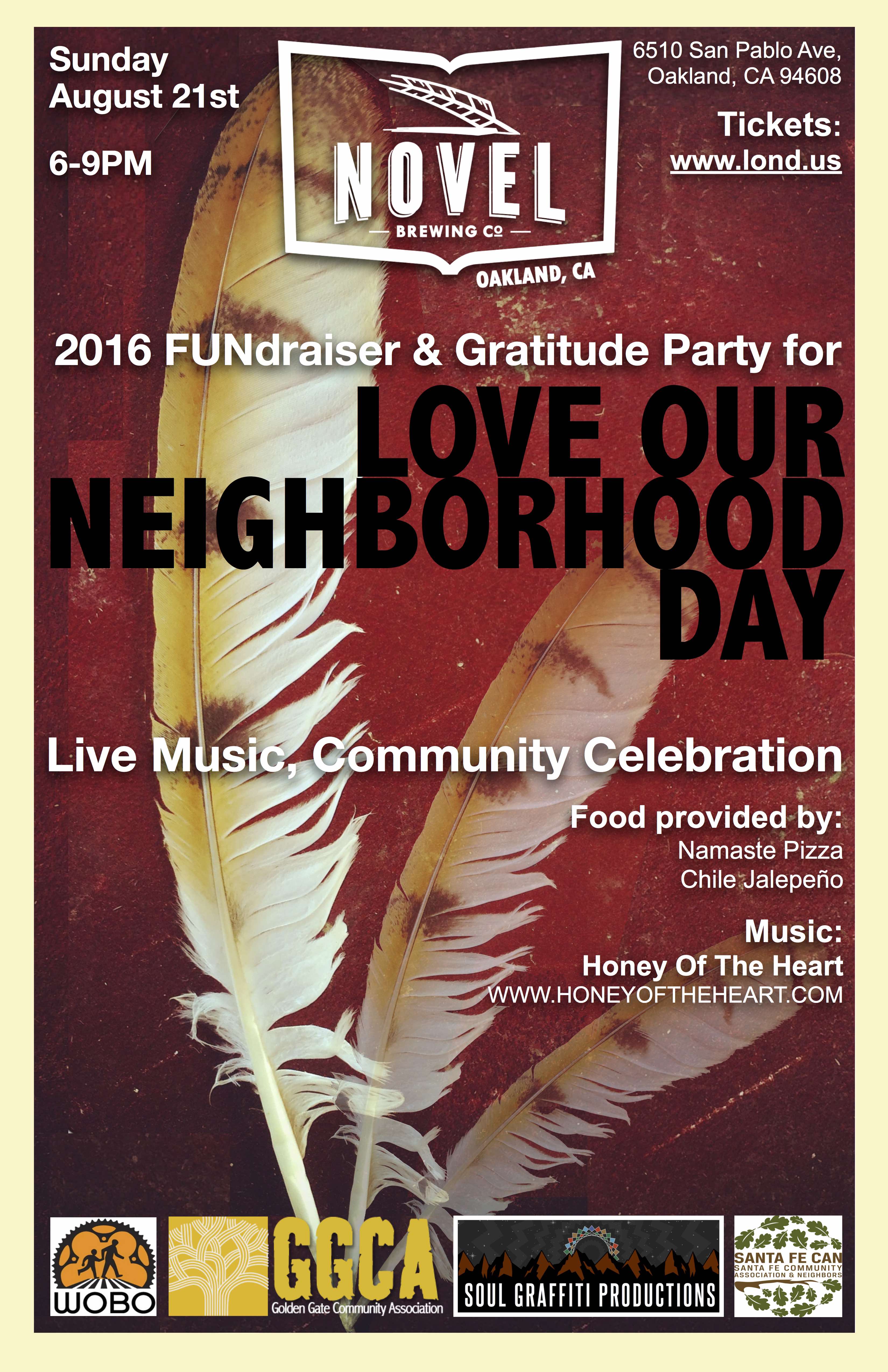 Soul Graffiti Productions, 6323 San Pablo Ave, Oakland, CA 94607 #530.305.9819 soulgbooking@gmail.com
FOR IMMEDIATE RELEASE
Date: 8/21/16
Where: Novel Brewing on 6510 San Pablo, Oakland CA
Time: 6 pm to 9 pm
Event link (FB): https://www.facebook.com/events/1629542827361653/
More information: www.lond.us
LOVE OUR NEIGHBORHOOD DAY FUNDRAISER AT NOVEL BREWING
STREETS CLOSED TO CREATE CAR-FREE COMMUNITY ATMOSPHERE. FUN ACTIVITIES, PERFORMANCES, RESOURCES AND ART PROVIDED FOR FREE! HELP FUND THIS EVENT BY COMING TO THIS FUNDRAISER AUGUST 21ST, 2016
On Saturday June 4th, 2016, Walk Oakland Bike Oakland and locals from the Golden Gate, Southwest Berkeley and Emeryville neighborhoods produced the third annual Love Our Neighborhood Day.  
Novel Brewing Fundraiser
Novel Brewing is opening its doors, serving treats from Chile Jalapenos and Namaste Pizza, and live music from Honey of the Heart to raise funds to support and sustain Love Our Neighborhood Day. Attendees will also see a re-cap of Love Our Neighborhood Day through videos and photos.  This event is part of a broader effort to raise $10K for the annual Love Our Neighborhood Day in 2016 and onward with the local neighborhood associations.
Love Our Neighborhood Day is an annual car-free street event that brings families, neighbors and businesses out to play on San Pablo Avenue, between Ashby and Stanford.  On June 4, 2016, it brought 15,000 people to the San Pablo Avenue typically reserved for automobiles, and became a community and cultural center where hundreds of activities, music and dance performers got people singing, pedaling, dancing, strolling, playing, and reconnecting with friends and local shops, including the newest brewery in town, Novel Brewing.
This event is a celebration of the neighborhoods of Oakland: Golden Gate, Sante Fe, Longfellow, as well as West Berkeley and Emeryville.  Every dollar from ticket sales and tips that evening go towards the sustainability of the event.
If you'd like to donate $150 or more, you will be named in the video credits of the official Love Our Neighborhood Day 2016 event video – launching out September 1st, 2016!
We also have 100% of the song download profits going towards LOND! Get your song and support Love Our neighborhood Day Here: https://justinancheta.bandcamp.com/