Our next big event is July 6th at the Ashkenaz in Berkeley: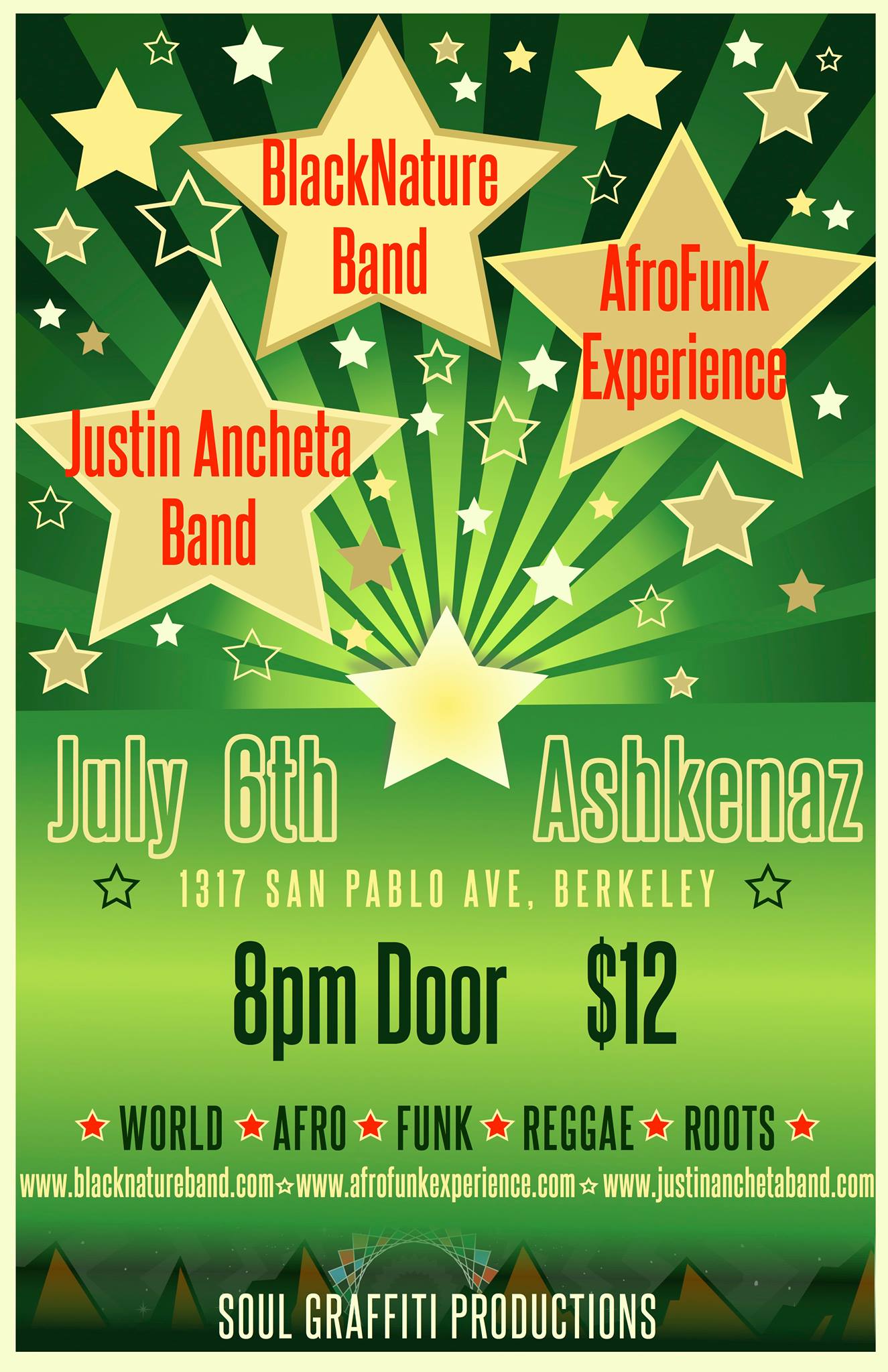 SOUL GRAFFITI PRODUCTIONS
6323 San Pablo Ave, OakLAND, CA, 94607
530-305-9819
FOR IMMEDIATE RELEASE
Date: 7/6/16
Where: Ashkenaz – 1317 San Pablo Ave., Berkeley CA 94702 – 510-525-5054
Door: 8:00pm
Show: 9:00pm
Ticket: $12    –   Ticket Link: http://tinyurl.com/hudzdyn
Facebook Event: https://www.facebook.com/events/278758995809437/
More information: soulgbooking@gmail.com
BLACKNATURE BAND, JUSTIN ANCHETA BAND AND
AFROFUNK EXPERIENCE LIVE AT
ASHKENAZ, BERKELEY, CA
WORLD, AFRO, FUNK, REGGAE DANCE PARTY!
Local rhythm world funksters join *Super-Powers* for this spectacular night of dance inspiration, Blacknatue Band, Justin Ancheta Band, and AfroFunk Experience are going to groove it up on this mid week Interdependence Day celebration. Bring your vibrant dress-up attire, glitter, super hero costumes and rainbow suspenders! ~*~ It's gonna get funky!
About The Band:
BLACKNATURE BAND  Black Nature is an original musical artist who composes and performs positive music that incorporates a unique blend of African Rhythms, Reggae, Dancehall, Rock, Hip-Hop and R&B. He is also a musical producer and filmmaker. As a young child, Black Nature began singing and playing percussion, and he was greatly influenced by the rich musical culture of Sierra Leone. In the midst of the country's brutal 10 year civil war, he fled to neighboring Guinea where he was placed in a refugee camp. During his time at the camp, he and other Sierra Leonean refugees formed a band that later became the world renowned Sierra Leone's Refugee All Stars.
Over the years the Sierra Leone's Refugee All Stars have also collaborated and performed with many other well known musicians such as Aerosmith, Dispatch, Toots and the Maytals, Jimmy Cliff, Lee Scratch Perry, Burning Spear, Damian Marley, Wyclef Jean, Chadwick Stokes, Mavis Staples, Trombone Shorty, Bonerama, Chris Velan, Dan Zanes, and Toubab Krewe. For booking information, please contact: Booking@BlackNatureBand.com.
JUSTIN ANCHETA BAND is a positively-charged, high-energy band from San Francisco. They bring together exotic world sounds with some heavy doses of funk and reggae. Lacing socially-conscious lyrics with horn, violin and guitar melodies over a steady foundation of drums, percussion, and bass, the band creates a dance party for everyone to enjoy. Locally acclaimed, they play venues such as the Independent, Slim's, Yoshi's, and the Great American Music Hall, while their tour schedule has taken them from Barcelona to Hawaii. After more than a decade of shows and touring, they have shared the stage with The Wailers, Joan Baez, Creedence Clearwater Survival, Charles Neville and many more musical luminaries.
The Justin Ancheta Band's music is an invitation to dance, while the music and lyrics are complex and intelligent and leave a sweet aftertaste in the heart and soul. "A beat that is global in scope." — Gus Thompson, Auburn Journal "One of the best and brightest bands…" — Mark S. Allen, Good Morning Sacramento (KMAX Channel 31)
THE AFROFUNK EXPERIENCE is an ambrosial mix of musical interpretations influenced by the African diaspora, created in a collective and organic manner. With Sila Mutungi they comprised the award-winning group Sila and the Afrofunk Experience until 2010, providing songs and grooves that earned them the title "The Bay Area's Dance Kings", as well as the NAACP Image Award's Outstanding World Music Album for "Black President" and the SF Weekly Music Award's Best International Act.
Contact: Soul Graffiti Booking @ (530)-305-9819 email: soulgbooking@gmail.com