Fundraiser August 21st at Novel Brewing: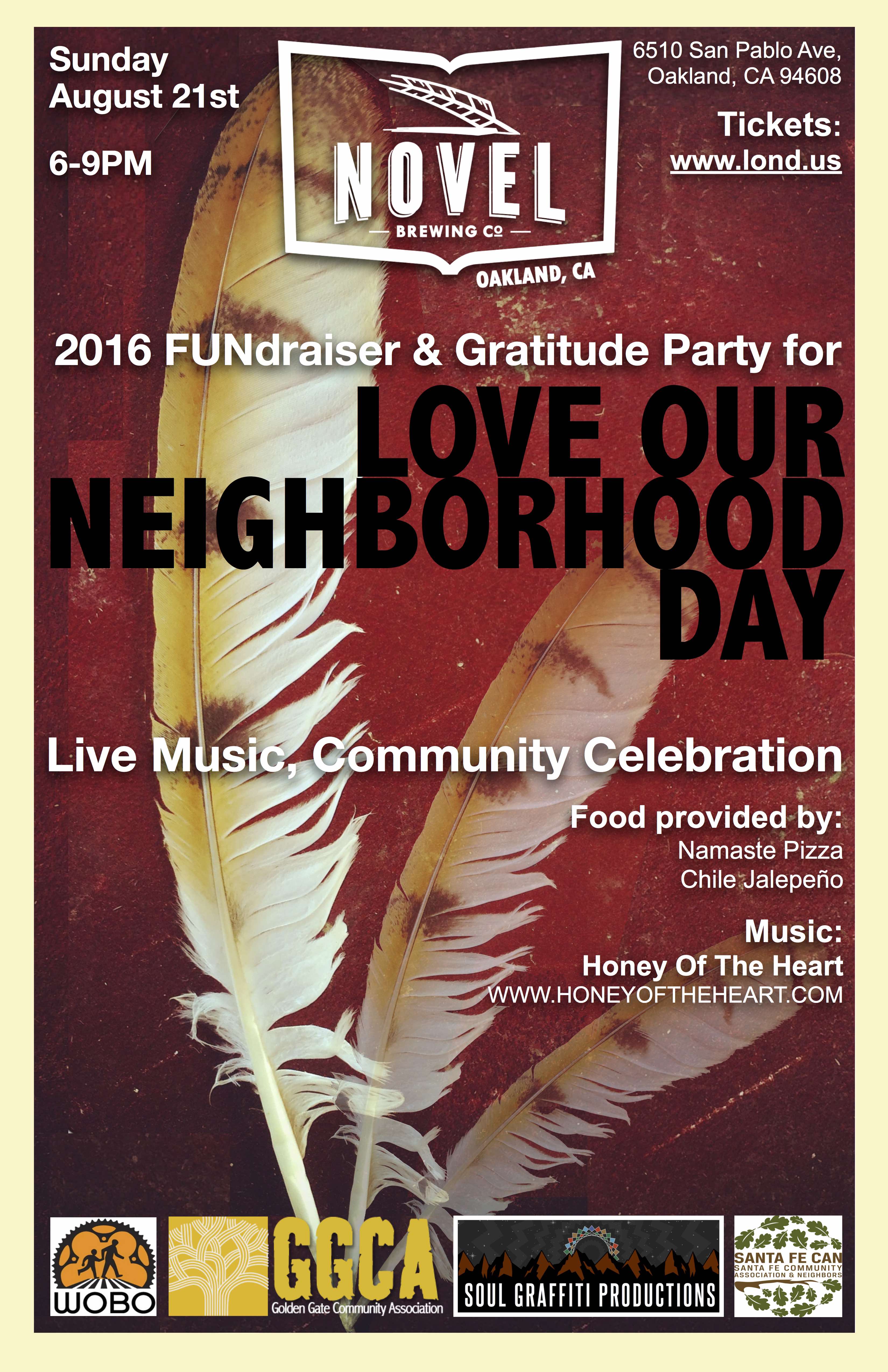 Details:
Sunday, August 21st 2016
Love Our Neighborhood Day Fundraiser – Gratitude Party
Novel Brewing 6510 San Pablo Ave, Oakland, CA 94608
6-9 pm
Music by: Honey Of The Heart
Food By: Namaste Pizza & Chile Jalepeño
Big Thank you to all who came out to help make the vibrant streets of Oakland come alive for Love Our Neighborhood Day. Here are some picture recaps from June 4th's, 2016 event! If you have more, please email them to soulgbooking@gmail.com.
Dear Community,
Love Our Neighborhood Day was a success, bringing over 10,000 people to the streets of San Pablo, Oakland. More then 100+ activities and 150+ music performers and 150+ Dance performers enlivened HWY 123 for 5 hours of open streets, creating a safe zone for all ages to enjoy.
We need your support to make this event happen again in such a joyous way! Please find time to watch our recap video here, and donate to the cause using Paypal: donations@wobo.org (Reference: LOND 2016) WOBO is a 501(c)3 tax deductible nonprofit organization and the tax ID is: 20-8652475
We are looking for video sponsors to help LOND be in the positive running into 2017's event date. Anyone with $150 or more will be named in the credits. All donors previously over $250 will also be named in the final credits. Final will come out September 1st, 2016!
Thank you for your continued support on this new event that is inspiring so many to live courageously and with joy!
Sincerely,
Justin Ancheta
Director of Love Our Neighborhood Day 2016
Highlight Video's: If you'd to help with costs of 2016, please donate through paypal to:
donations@wobo.org (Reference: LOND 2016) WOBO is a 501(c)3 tax deductible nonprofit organization and the tax ID is: 20-8652475
Oh man. #loveourhood just raised the bar for #openstreets. pic.twitter.com/byE11vF3mb

— WOBO (@walkoakbikeoak) June 4, 2016
Zoom in to see detailed areas, or click HERE for a full page map
[googlemaps https://www.google.com/maps/d/u/0/embed?mid=1AFenao0RLQHmz0Tn9RkxLN3G89A&w=640&h=480]
Soul Graffiti Productions, 6323 San Pablo Ave, Oakland, CA 94607 #530.305.9819 booking@soulgraffiti.info
FOR IMMEDIATE RELEASE
Date: 6/4/16
Where: San Pablo Ave. from Ashby Ave. to Stanford Ave.
Time: 11am – 4pm
Event link (FB): https://www.facebook.com/events/1162178653822581/
More information: oaklavia.org
Map Day-of: https://goo.gl/vO3Q3d
LOVE OUR NEIGHBORHOOD DAY 2016
STREETS CLOSE TO CREATE CAR-FREE COMMUNITY ATMOSPHERE. FUN ACTIVITIES, PERFORMANCES, RESOURCES AND ART PROVIDED FOR FREE! COME PLAY AND SUPPORT LOCAL ORGANIZATIONS!
On Saturday June 4th, 2016, Walk Oakland Bike Oakland and locals from the Golden Gate, Southwest Berkeley and Emeryville neighborhoods will be producing our third annual Love Our Neighborhood Day. The event will be open from 11am-4pm.

Love Our Neighborhood Day will happen in the street on San Pablo Avenue, from Stanford to Ashby. All lanes of traffic on San Pablo will be closed to cars during the event. This is a huge achievement for our neighborhood – we're closing historic state highway 123 for the day to enable shared celebration and reclaiming of urban open spaces.
In 2015, we saw about 10,000 visitors to Love Our Neighborhood Day. We expect 15,000 to attend this year because of the increased enthusiasm and interest shown by the community, as well as the addition of several new key event partners, performers, and city support.
Activities and Key Partners (North to South on San Pablo)
Dozens of local organizations, performers, artists, and others from throughout the region will join us on event day, including:
Citizen Five Music Stage: Happening at Folger and San Pablo just south of Ashby, local artists from the neighborhood are featured: DJ Hercules Records, Make Jazz, Lil' Elephant, Genius 13 yr. Old solo act, and Supa Knova & Nebi.
MILO Foundation will host pet adoptions.
Mysterious Creatures Art Collective & Gallery will be hosting a live art mural production on their building, demos and interactive events, including a stage of local artists: Drea M., Diana Gameros + Brother, Michael Rufo, Heather Normandale, & Dashboard Buddhas,
Homegrown Acoustic Stage: featuring Guatam and Dennis D., is a relaxing zone of kids games, great food, and acoustic music to relax in the shade.
The Grease Diner will be hosting DIY silkscreening
Oakland Fitness, Cliff Bar and others will be hosting a Games area for all ages
Berkeley Maynard Academy and Yu Ming School will be collaborating on student projects for the event, hosting events reaching out to the local community
Riveropolis will return for its second year at Love Our Neighborhood Day – Riveropolis is sculpture and furniture featuring elevated waterways and fantastical landscapes, bringing the magic of running water to schools, museums and public places
Rock the Bike Center Stage will return with their pedal-powered music stage, smoothies and a stellar line-up:
– 11 a.m. Zumba w/ Angie
– 11:40 Ecstatic Dance with DJ Jocelyn aka Liquid Love Drops
– 12:40 Justin Ancheta Single Release "Dark Winter Night" w/ Del Corazon
– 12:50 Bay Balkan Brass
– 2:00 Downs Choir
– 3:00 Bicicletas Por La Paz
Grand Opening of the Charles Porter Golden Gate Recreation Center: with live activities of basketball, zumba, and a 1:30 pm celebration and announcements.
Destiny Arts will produce an all-day stage, including performances by their youth dance groups, DJ entertainment, dance classes, and more
KALA Art Institute will be hosting several artists in their Print Public program, creating art on the street during the event
Namaste Pizza at 60th and San Pablo will be hosting local hip hop artists, folk artists, spoken word, dance performances and standup comedy at 60th and San Pablo all day long! A slice of pizza will be given away for those who pose for a photo! Limit 200. Stop by to eat and enjoy! Here's the line up:
11:00- Opening Hip Hop performance by Vik Gosain
11:10 – 11:30 Acoustic Soul by Chris Bryden 11:35-11:50 Stand up Comedy by Matt Gubser
12:50-12:55 Beatboxing by Gabriel Martinez 1:00-1:05 Hip Hop dance by Scott Duong 1:10-1:15 Hip Hop performance by Vik Gosain
1:20-1:30 Poetry by Marjorie Bartolome
1:35-1:45 Hip Hop performance by Cameron Bennett and Lance Jacquet
1:50-2:30 Hip Hop for Change
2:35-3:00 Open Mic Cypher
3:05-3:20 Music Performance by Thanh Tran
3:25-3:30 Final Hip Hop Performance
3:35-4:00 Open Dance floor
Come get your groove on !
Athletic Playground will host all day events of acroyoga and monkey games for all ages by Stanford & San Pablo
Capoeira and Karate demonstrations by Studio Naga, the Capoeira Foundation, CapoeiraMandinga and more!
Street Closures
San Pablo Avenue will be closed to all traffic from Ashby Ave to Stanford. All side streets will be detoured around the event, but will be open to traffic up to San Pablo. For residents or businesses who need access into and out of the neighborhood on event day, side streets can be used to access main arteries surrounding the event (Ashby, Hollis, Stanford, Market/Sacramento) and get into and out of the area. Street closures will start at 9am, and streets will reopen by 6pm.
Public Transit
The AC Transit 72 Line buses will be routed via Ashby and Stanford to Sacramento/Market. All 72 Line stops on the Event Route will be posted with directions to nearby alternatives. Transit re-routing will start before 9am and resume normal operation after 6pm (when the roads are open).
Volunteers Needed
Please go to this form to get involved hosting an activity, or volunteering to make Love Our Neighborhood Day a fun and engaging family experience:http://oaklavia.org/love-our-neighborhood-day-2016